June 16, 2015
In the June 6, 2015 edition of the Arizona Republic, writer Karen Fernau submitted an interesting article, entitled "Keep your COOL, 5 ways to reduce electricity bills this summer."
In her article, she makes the point that two important methods of controlling the temperature inside a house are, "Blocking the sun and keeping cool air moving..."
One of the items in her list is to keep your air conditioning system in top working order, clean and "well maintained." 
Fernau quotes a spokesperson for SRP, Patty Garcia-Likens, as saying that "air conditioners account for more than half of the average homeowner's summer power bill."  Wow!  You may have already had your system checked by an air conditioning professional to keep it running efficiently and to care for any repairs or refrigerant it may be needing.  Fernau makes the point that having the air conditioning unit itself in the shade can help use 10% less electricity.
Fernau also makes the point that awnings can help "block direct sunlight and heat, quoting a study by the University of Minnesota that found 'that installing awnings can reduce cooling-energy needs by 21 percent in Phoenix'."  She points out that the awnings make most impact on the south and west windows in a home.
Another interesting point the author makes is that trees can shade the house from sunlight and help keep the temperature lower...quoting the Arizona State University Office of Climatology research, Fernau writes that trees can "reduce summer cooling costs by 15 to 35 percent.  Shade trees can keep an upstairs 20 to 40 degrees cooler on sunny days."  Another benefit of using trees for cooling a home relates to the fact that a "tree can transpire up to 100 gallons of water in a day.  In a hot, dry climate, this cooling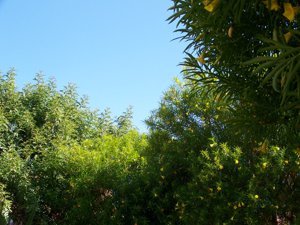 effect equals that of five air conditioners running for 20 hours, according to the U. S. Environmental Protection Agency."  She said that SRP offers assistance on the use of trees for cooling and mentions the website, "savewithsrp.com", as a source of information.
She mentions the use of solar screens for use on windows, saying that about one half of the heat enters the house via windows, pointing out that these screens also "protect your home's interior from sun damage," as well as saying "solar screens can be removed during the cooler winter season."
Fernau also mentions ceiling fans as to make a room feel more comfortable; she quotes energy.gov that a "ceiling fan lets you raise the thermostat setting about 4 degrees with no reduction in comfort."  Adding, "turn off ceiling fans when you leave the room."
I found the article to be interesting, with useful information.  As the temperatures rise in the summertime, so do the electricity bills, as we use more energy to cool our homes.  Every single adjustment like these we make can help reduce our consumption of energy.
If you have a favorite way of conserving electricity, please share it by leaving a comment.  We're all in this together...enjoying summertime in Arizona!
~ Grant Phipps